by Steven Nyland, OrganicCrops. Posted on 12 May 2016, 08:12 hrs
As one of Peru's major exporters of quinoa, we like to keep track of what the market is doing with our beloved ancient Andean grain. We have seen that food companies are becoming creative in utilizing quinoa in a variety of product types. This post we are looking into how amateur and professional foodies are incorporating quinoa in their dishes.

We have looked at hundreds of recipes. We prepared and tried a large number of them and picked the top eight recipes based on taste, use of ingredients, presentation and ease of preparation.
1. Mexican chicken stew with quinoa & beans
This recipe by Sarah Cook, published on BBC Good Food is a bowl of hearty deliciousness. The recipe requires chipotle paste. If you cannot find ready-made chipotle paste, then you can use this recipe to make your own.
The recipe features chicken as a protein. For a vegetarian version you can substitute chicken with your favorite mushrooms or pumpkin. For variation you can substitute chicken with prawns. Just make sure not to overcook the delicate prawns.
  Visit bbcgoodfood.com Mexican chicken stew with quinoa & beans recipe
2. Kale, Quinoa, and Avocado Salad with Lemon Dijon Vinaigrette
There are a lot of quinoa salad recipe's to be found on the Internet. This one caught our eye. Kale, quinoa and avocado are super healthy and tasty ingredients. Combined with the zesty Dijon dressing, makes for a truly unique and tasty starter-salad dish. We suggest to use a whole avocado because it is just so yummy! In case you are not a fan of kale you can substitute with fresh organic spinach.
  Visit allrecipes.com Kale, Quinoa, and Avocado Salad
3. Quinoa Salad with Pickled Radishes and Feta
Created by Giuseppe Tentori, the quinoa salad with pickled radishes and feta salad will surprise your senses. If you have to put together an original starter for your dinner party then this salad will do the trick. Add a little turmeric powder to the quinoa whilst cooking to give it a yellow color that will contrast nicely with the other ingredients.
  Visit foodandwine.com Quinoa Salad with Pickled Radishes and Feta
4. Gluten-Free Cinnamon and Maple Syrup Puddings
They taste as good as they look. Maple syrup, cinnamon and vanilla. Can't go wrong with that. The recipe uses quinoa flour. The nutty flavor of quinoa flour and Maple syrup go really well together. For a bit of crunch, top the pudding with some walnut brittle.
  Visit taste.com.au Gluten-free cinnamon and maple syrup
5. Garlic Butter Shrimp and Quinoa
Imagine a world without garlic butter (or bacon). Awful! This recipe is not for anyone on a diet. It requires a good dashing of garlic butter. This is the best quinoa & seafood combo we have come across. We suggest to give it a bit more kick by replacing the chili powder with 1/2 diced Rocotto chili or 2 diced Amarillo chilli's (aji Amarillo). Don't add the seeds as the heat will kill the subtle flavor of the prawns.
  Visit pinchofyum.com Garlic Butter Shrimp and Quinoa
6. Slow Cooker Enchilada Quinoa
We praise Tiffany from Crème de la Crumb for coming up with this slow cooker. Cheese, cream cheese, beans, quinoa, avocado ... It's a pot of hearty Mexican heaven that you can prepare on Sunday and eat for days on end. We added lots of tomato/onion/avo toppings for the extra fresh crunch. Once again it is not a dish for the light hearted. Winter is coming!
  Visit lecremedelacrumb.com Slow Cooker Enchilada Quinoa
7. Vegetable Quinoa Temaki Sushi
Quinoa is an ideal substitute for rice. So why not Quinoa Temaki's? Victoria Logunova show us a recipe that can be used as a base for creating your own temaki's. We made some with fresh tuna and avocado, finely chopped onion. And what about pickled carrot, fried garlic and shredded lettuce as a filling? The sky is the limit. Healthy, delicious snack food!
  Visit vegelicacy.com Vegetable Quinoa Temaki Sushi
8. Carrot Tahini Quinoa Burgers with Tzatziki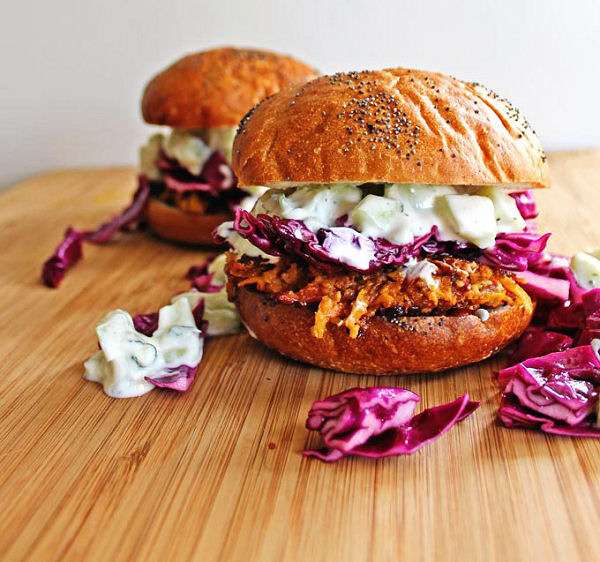 We have come across quite a few quinoa burger recipes but this one tops the list. Granted, it is not a 'let's quickly make a burger' recipe, but if you have the time you will not regret making this unusual and delicious hamburger. We added some chopped chili and an extra garlic clove to the burger mixture to give it more kick. The tzatziki sauce pairs really well with the burger. Now all it needs is a cold beer!
  Visit rhubarbarians.com Carrot Tahini Quinoa Burgers with Tzatziki
Bon appetit
We hope you'll enjoy these recipes. Remember that quinoa is a versatile ingredient that can be used in Mexican, Italian, Greek, Indian, Middle-Eastern, and many more cuisines. Snacks, starters, main and dessert, quinoa can do them all. Get cooking!
Want to know more about Quinoa?
If you want to learn more about quinoa, I recommend you read OrganicCrop's Quinoa frequent asked questions (faq).
About OrganicCrops
OrganicCrops
is a Peruvian agricultural trading company that exports premium quality superfood products such as quinoa, maca, and cacao. Our fair trade way of working ensures that indigenous Peruvian farmers receive fair compensation for their crops.
Back to News